Using and Sharing Your HIPAA-Compliant Forms
This instruction is for users operating in a Covered Entity account (not a Developer Account).
If you have signed-up as a Covered Entity and accepted the HIPAAtizer Business Associate Agreement, your forms are automatically HIPAA Compliant. To make a form that is in your dashboard HIPAA-Compliant and remove the watermark that appears on forms that are in a Developer's dashboard, a Covered Entity account must be activated with HIPAAtizer and the forms must be activated from the Covered Entity account.
Covered Entities under HIPAA are all Healthcare providers, health plans, and healthcare clearinghouses. Healthcare providers include, but are not limited to:
Clinics
Doctors
Psychologists/therapists
Dentists
Physical Therapists
Pharmacies
Health and Diet coaches
Chiropractors
Alternative Medicine Specialists
Nursing Services and Home Care
Once the BAA is accepted, you can start using your HIPAA-Compliant forms and they are ready to be published, shared or embedded on your website.
Accessing, Editing, Sharing and Publishing Your Forms:
Step 1: From the My Forms dashboard, click on "Embed Form":
Step 2: After you click on "Embed Form", a modal window appears (see screenshot below). From this window, you have a number of options to share a form. These include the (1) Share Link or (2) Share QR Code. If you choose (1) Share Link, then click on (3) Copy to copy the https://hptz.io link that is to the left of the Copy button.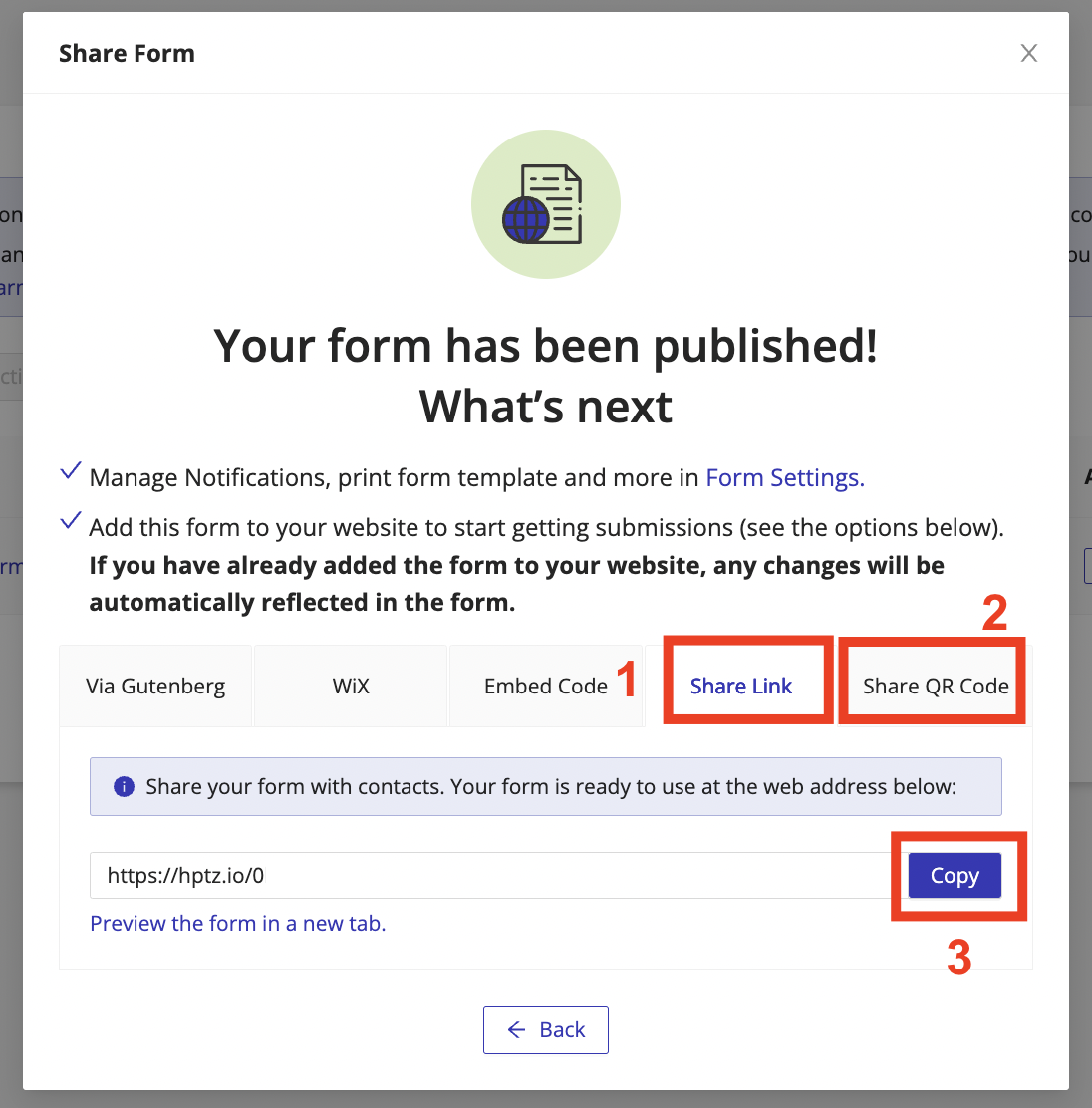 Step 3: Once the link has been copied, it can be pasted into an email or sent by messenger app to a client or patient to fill out the form.
If you paste the code into any browser's address bar, you can bookmark it for future use.
Embedding the form: From the above modal window, you or your developer can embed the form in a website. For more information on this, see this instruction: https://www.hipaatizer.com/docs/how-to-activate-the-form-and-make-it-hipaa-compliant/