For Developers: How to invite a Covered Entity, activate a form to make it HIPAA Compliant and edit forms in Covered Entity accounts
This instruction is for Developers and others operating in "Developer" Mode.
If you have signed-up as a Covered Entity and accepted the HIPAAtizer Business Associate Agreement, your forms are automatically HIPAA Compliant. To make a form that is in your dashboard HIPAA-Compliant and remove the watermark that appears on forms that are in a Developer's dashboard, a Covered Entity account must be activated with HIPAAtizer and the forms must be activated from the Covered Entity account.
Covered Entities under HIPAA are all Healthcare providers, health plans, and healthcare clearinghouses. Healthcare providers include, but are not limited to:
Clinics
Doctors
Psychologists/therapists
Dentists
Physical Therapists
Pharmacies
Health and Diet coaches
Chiropractors
Alternative Medicine Specialists
Nursing Services and Home Care
Step 1. Invite a Covered Entity..
Screenshot 1. Go to Menu > (1) Team, then click on (2) "Covered Entities" and click (3) "Invite User".

Screenshot 2: In the modal window, (1) enter the relevant information for authorized person at the Covered Entity. Make sure that the role is set to (2) "Covered Entity" and, if you have a new form to share with the client, you can attach it here (3). When you are finished, you click "Send" and an invitation will go to the Covered Entity.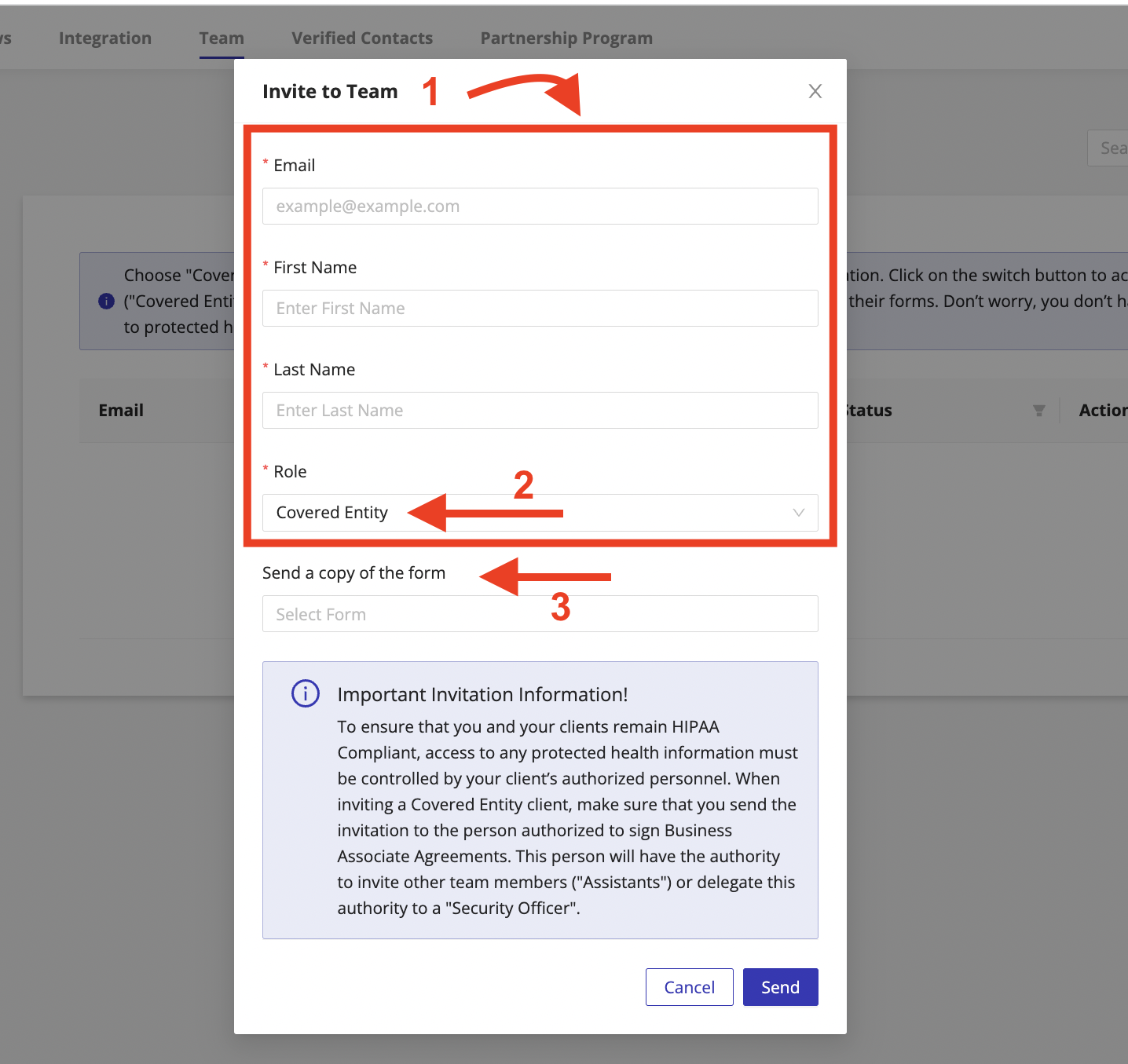 Step 2. The Covered Entity will receive an email to create an account with HIPAAtizer.com, choose a subscription package and accept the HIPAAtizer Business Associate Agreement (BAA).
Once they set-up the account, the form will be in their "My Forms" dashboard. This form is a duplicate of the form in the Developer account. Changes that you make to the form in your dashboard will not be reproduced in the form in the Covered Entity's dashboard. If you want to subsequently edit the form that the Covered Entity has on their website, you must make the changes in their account. For more information on editing a form in a Covered Entity's account, please see Step 3 of this Instruction.
You do not have access to form submissions and HIPAA-sensitive, protected health information.
Step 3. Accessing, Editing and Publishing a Covered Entity's Forms:
You (the Developer) will receive an email notification once the BAA is accepted, and the Covered Entity can start using the HIPAA-Compliant form and it is ready to be edited, published or embedded on a website.
You (the Developer) can edit, publish or embed the form by accessing the Covered Entity's Forms
Go to Team > Covered Entities > Actions > Switch to Managed Accounts dashboard

And click on "Embed Form":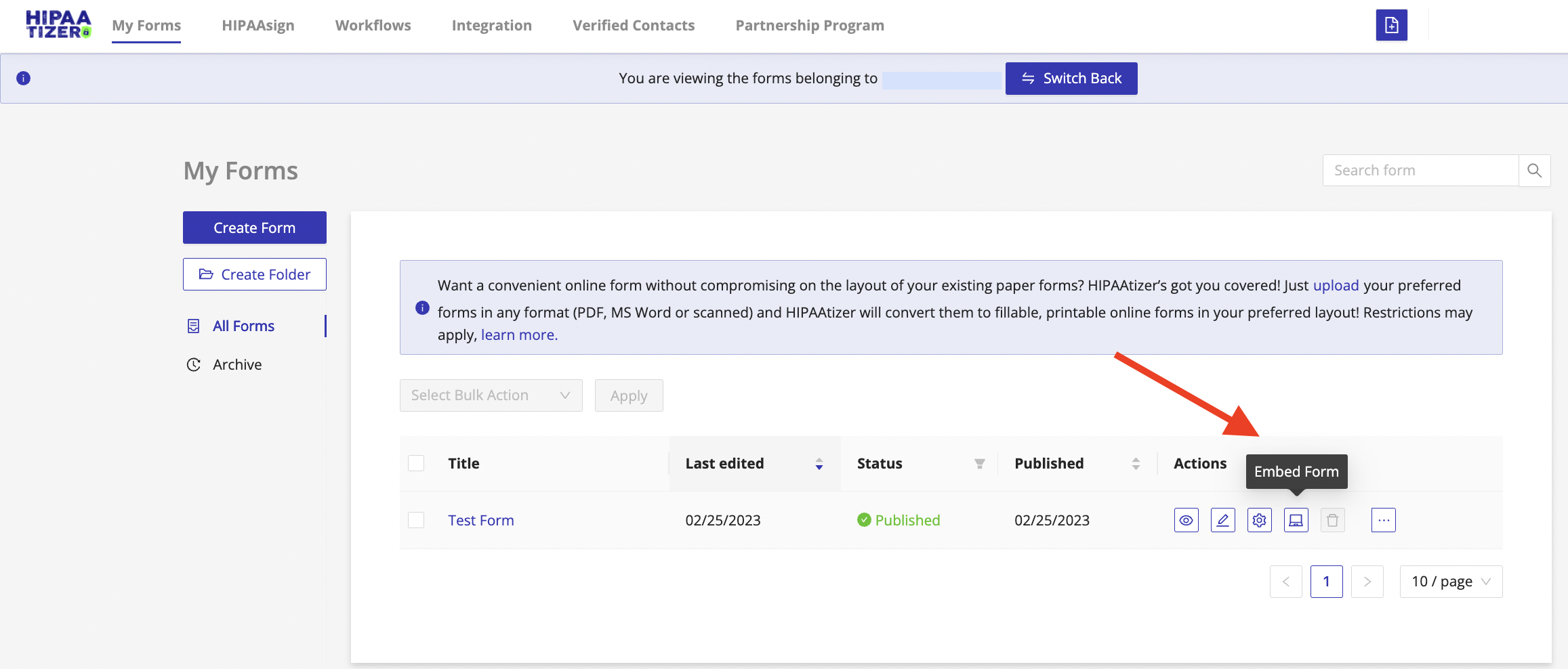 After you click on "Embed Form", a modal window appears (see screenshot below). From this window, you have a number of (1) options to embed, activate or share a form.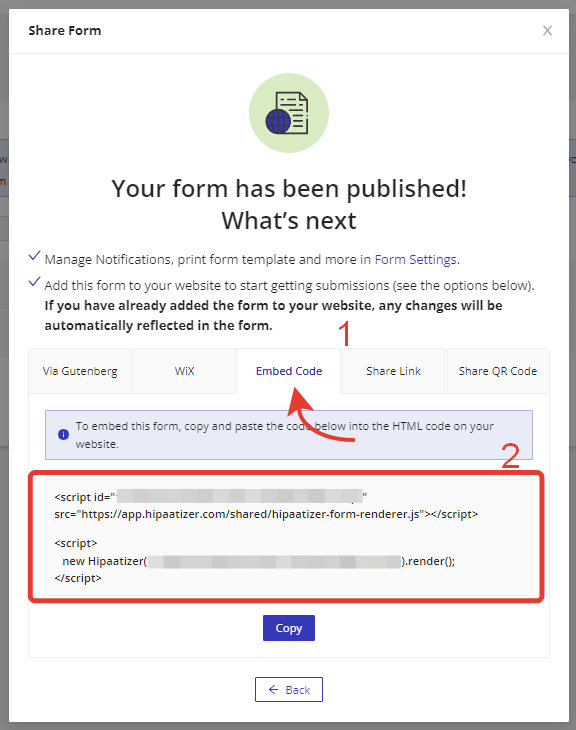 In the case of embedding the form in a website (2), you can copy the embed code, as above, and you will also find an activation code in your email inbox in a message from HIPAAtizer. This email is automatically sent when you send a form as part of the invitation process for a Covered Entity to create an account.
Once you've embedded the form and activated it, the form is ready for use!
If your client wants you to edit any part of the form, such as add a new field or change a field's label, make sure that you are in their account and click on the form name, in this example, "Test Form" and the form builder will open. Once the form builder is open, you make the necessary changes.
Please note: Any duplicates in your Developer are different from the forms in the Covered Entity's account. Therefore, if you change the form in your Developer account, you are not changing the Covered Entity's form. You can tell that you are in the Covered Entity's account by the "Switch Back" button visible at the top:

If your client wants to change form settings, such as add or edit a print template, adjust email notifications and others, you can access these settings from "Form Settings", see the screenshot just below: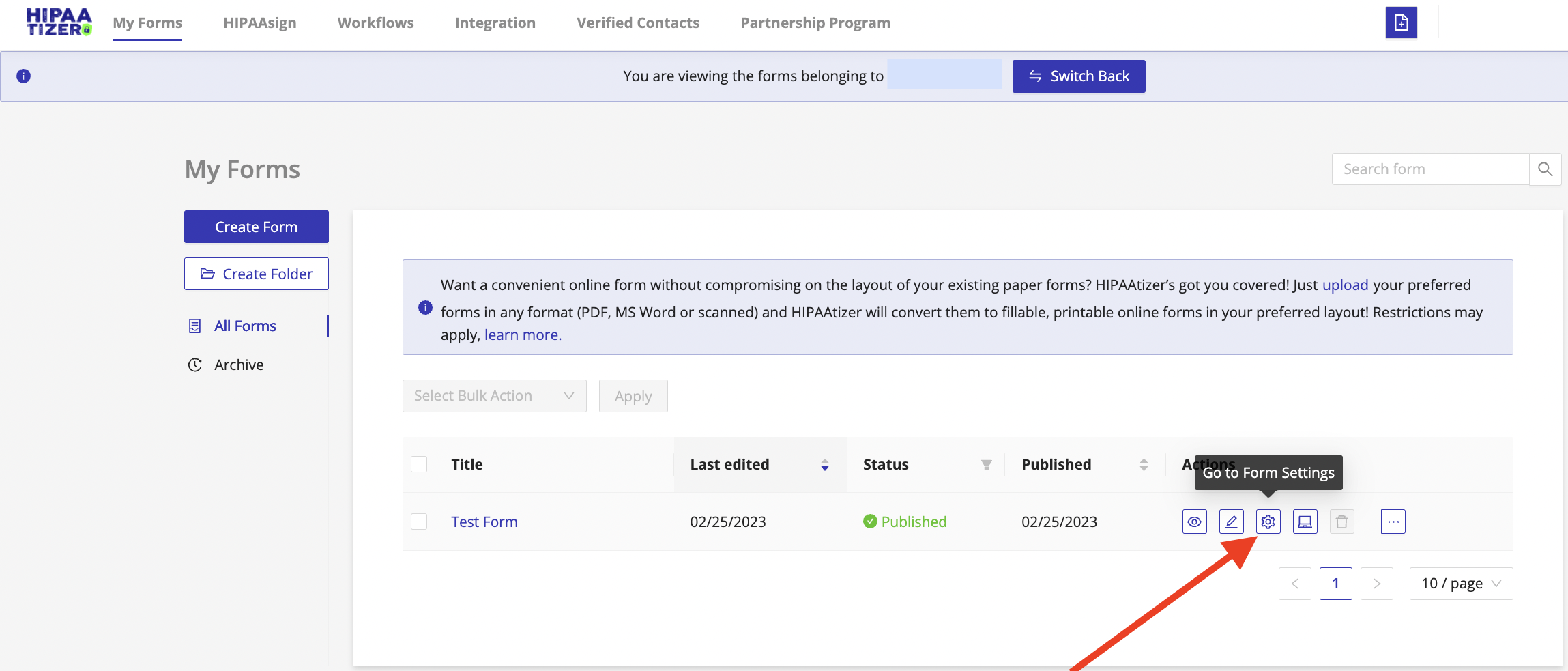 If you have any questions, you can always reach out to us at support@hipaatizer.com