How HIPAAtizer Helps You Create Awesome Forms for Your Healthcare Clients
Be honest with yourself: how much of your time (or the time of your administrative staff) goes into creating, distributing, and managing forms for your clients, then formatting the PDF printable template.
Too much?
Using HIPAAtizer can help save you time while creating awesome, secure, flexible, easy-to-manage HIPAA-Compliant forms for your clients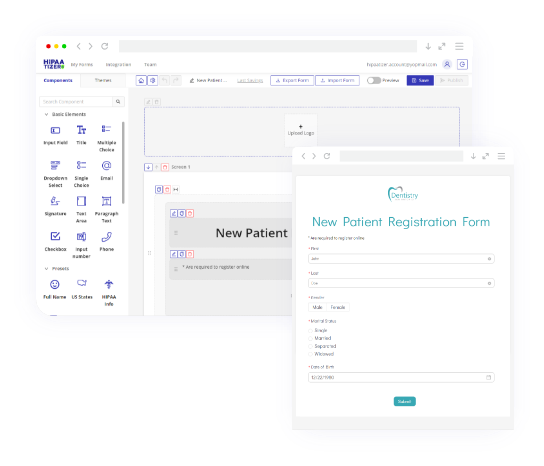 HIPAAtizer Helps You Create Branded Forms
HIPAAtizer is a robust form builder that empowers your team to create branded, customized forms for your clients. Our platform helps digital marketing agencies, IT support companies and web designers who work with healthcare companies to build forms that aren't only HIPAA-Compliant, but also user-friendly.
HIPAAtizer gives you the ability to easily create customized branded forms with user-friendly functionalities like drag-and-drop and our impressive style grabber. In addition to being always HIPAA-Compliant, we believe that your clients' forms should be beautiful and, mobile-friendly.
Did we mention how great HIPAAtizer forms look on every type of device? Whether they're being viewed and completed on a smartphone, tablet, or laptop, our responsive form viewer keeps your forms easy to read and, most importantly, easy to fill-out!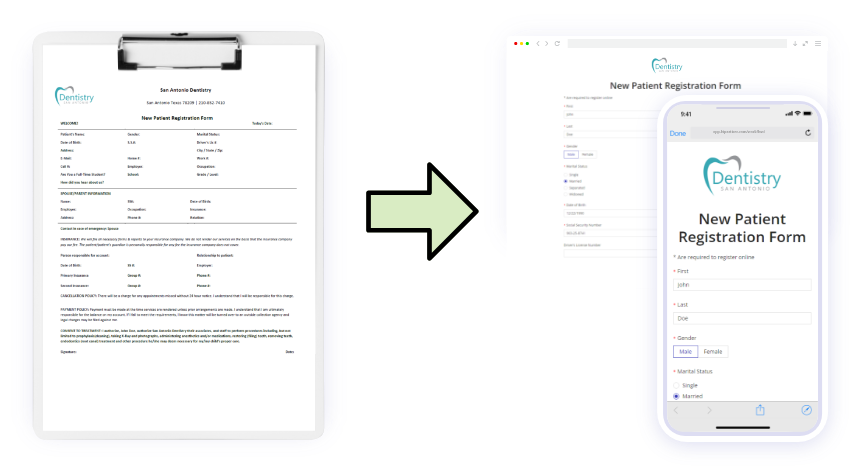 HIPAAtizer Helps You Convert Your Clients' Forms
Your clients don't want some form builder's forms, they want THEIR forms!
HIPAAtizer's technology (with the help of our technical team for complex forms) can reproduce any PDF template, together with a fully responsive, online fillable form. Your clients can seamlessly transition to digital, while keeping the paper or PDF formats that they are used to!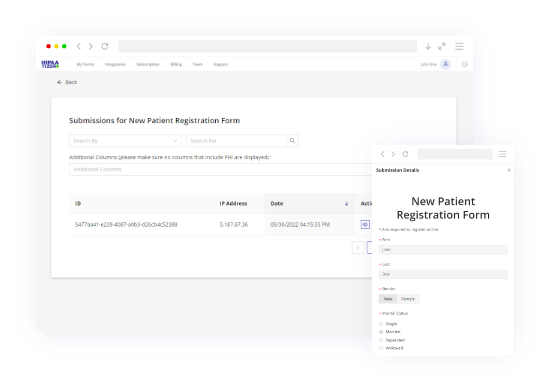 HIPAAtizer Helps You Secure Protected Information
HIPAAtizer is the easiest way to create forms and documents for your business while keeping sensitive information secure.
We offer a variety of templates that are ready to use and customizable, from MRI forms to intake forms to consent forms . HIPAAtizer also helps you protect personal information by automatically converting patient information into an encrypted PDF file, which can only be viewed once a user has completed registration.
Our HIPAA compliance tools include:

Data encryption
Design printable form templates with HIPAAtizer and receive submissions as PDFs that exactly resemble your paper forms.

Encrypted PDFs
Download your form submissions in encrypted CSV format to keep your client's sensitive data secure, organized and Excel-ready.

Custom Email Notifications
Decide which email notifications you want to receive in your form submissions so you know exactly when you receive a form from a client and which type of form it is.
HIPAAtizer helps you create, automate, and protect your forms
With all of these user-friendly features, we're here to help you create, manage, automate, and protect your forms and – most importantly – your client's data. HIPAAtizer was created specifically with the needs of marketing agencies, IT support companies and web designers working with health care providers in mind, so every feature, security measure, and our efficiency-driving functionality was built for you.
Want to learn more about how HIPAAtizer can help? Contact with us here!